Allen Solly
,
Beam Suntory
,
Ford
,
G4S
,
Hindustan Times
,
IIPM
,
Ishis Jewellery
,
Kingfisher Airlines
,
KLM Northwest Airlines
,
Miss
,
Teacher's
,
Uppal's Orchid
,
VLCC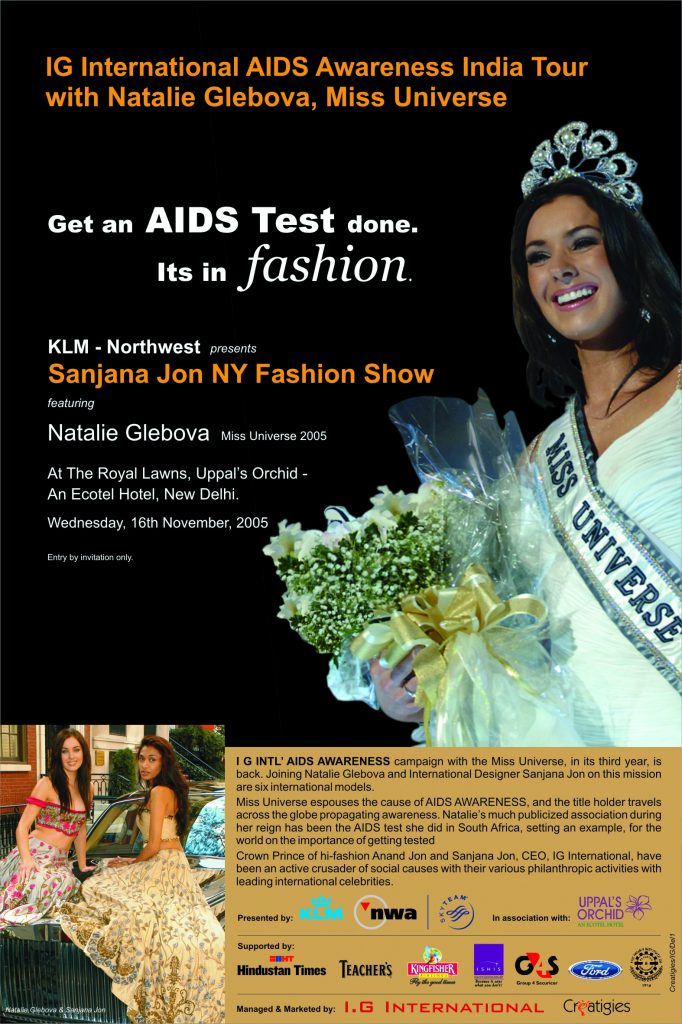 Miss Universe 2005 of Canada, Natalie Glebova, arrived in India for the IG International AIDS awareness Tour of India. She spread AIDS Awareness and sizzled the ramp for New York-based celebrity designer Sanjana Jon.
Using fashion and her international title for a noble cause, Miss Universe-2005 Natalie Glebova visited the Indian cities of New Delhi, Mumbai, Chennai, Bangalore, Hyderabad and Kochi from 14 to 26 November, 2005 as part of the "IG International Miss Universe AIDS Awareness India Tour 2005".
As a part of her tour, Spreading the message of HIV/Aids prevention, particularly among adolescents, Miss Universe undertook the following;
– Spoke at the Hindustan Times Leadership Summit -2005 in New Delhi.
– Prepared a Christmas cake during an AIDS awareness campaign at Uppal's Orchid in New Delhi.
– Visited Ashraya holistic centre in New Delhi to meet the AIDS patients.
-Visited Aurobindo Chaudhuri Memorial Great Indian Dream Foundation for Project Tara, a programme focusing on providing education to the under privileged children.
– Visited the Group 4 Securicor [G4S] corporate office to spread the message of AIDS awareness amongst the employees of the largest private sector employer in India.
– Attended Teacher's Achievement Awards 2005 in Mumbai where she enthralled the gathering with a piano recital.
Walked with thousands of school children drawn from as many 70 schools in Kochi, Kerala.

Sponsors:
Creatigies, as the marketing partners of tour, brought on board sponsors.
KLM Northwest Airline, Teacher's, Hindustan Times, Group4Securicor, Kingfisher Airlines, Ford Motors, Ishis Jewellers, IIPM, VLCC, Allen Solly, Uppal's Orchid Hotel (New Delhi), ITC Grand Central Sheraton Hotel & Towers (Mumbai), The Leela Palace (Bangalore).