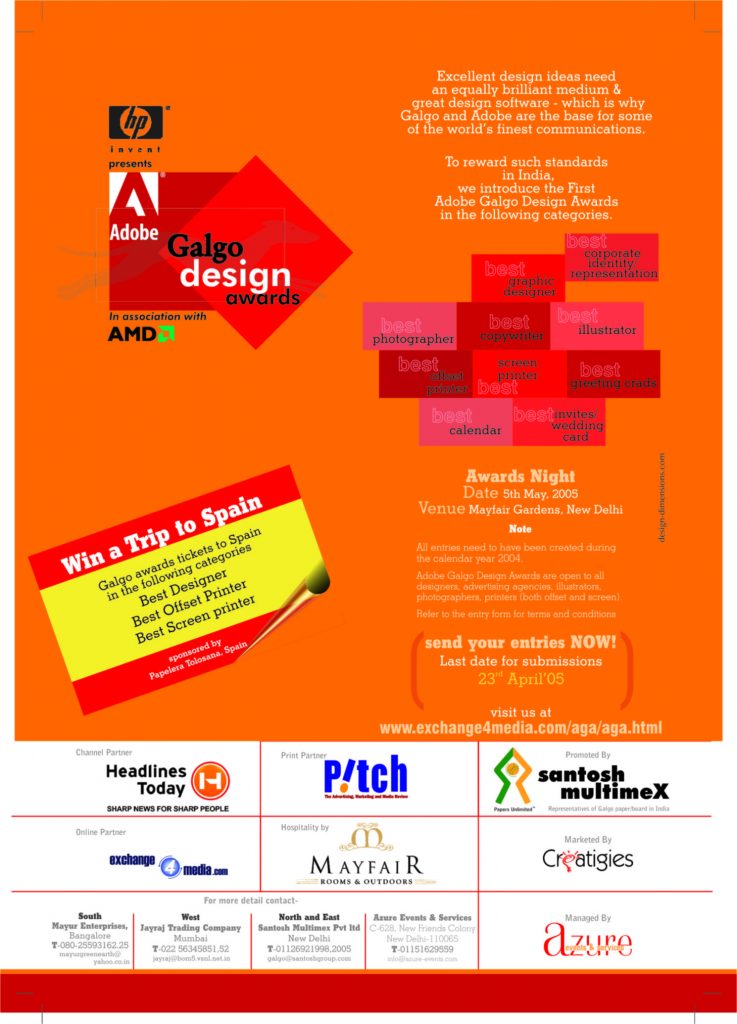 On 29th April, the serene lawns of Mayfair, at the foot of the Qutab Minar, saw dialogue and discussions where eminent personalities from the world of design congregated to go through hundreds of entries across 10 categories.
Members of the Jury:
Piyush Pandey – Chairman O&M India & National Creative Director
Vahid Mehrinfar – Chief Brand Futurist of Vahid Associates, Bahrain/Dubai / Qatar, and Executive Principal, Idea, of Lowe Contexture, Bahrain associates of Lowe & Partners Worldwide,
Ashoke Chatterjee – Former Director for over two decades of India's premier design college, The National Institue of Design, Ahmedabad
Raghu Rai – World Renowned Photographer,
P Narendra Rao – MD Pragati Offset Pvt. Ltd.
Mohit Gujral – Esteemed Architect
The Award categories aim at facilitating all the designers, marketing companies, advertising agencies, illustrators, photographers, printers and corporate who recognize and work towards higher standards in their fields.
Only work done during the calendar year of 1st January 2004 to 31st December 2004, and originating in India, would be eligible.
The Awards are supported by the following partners:
Presenting Sponsor: HP
Associate sponsor: AMD
Media partners: Headlines Today, Aaj Tak, PITCH, IMPACT, Exchange4 Media.com
Hotel Partner: Jay Pee Vasant Continental, New Delhi
Hospitality: Mayfair Banquets
Promoted by Santosh Multimex
Event Management: Azure
Marketed by: Creatigies Communications