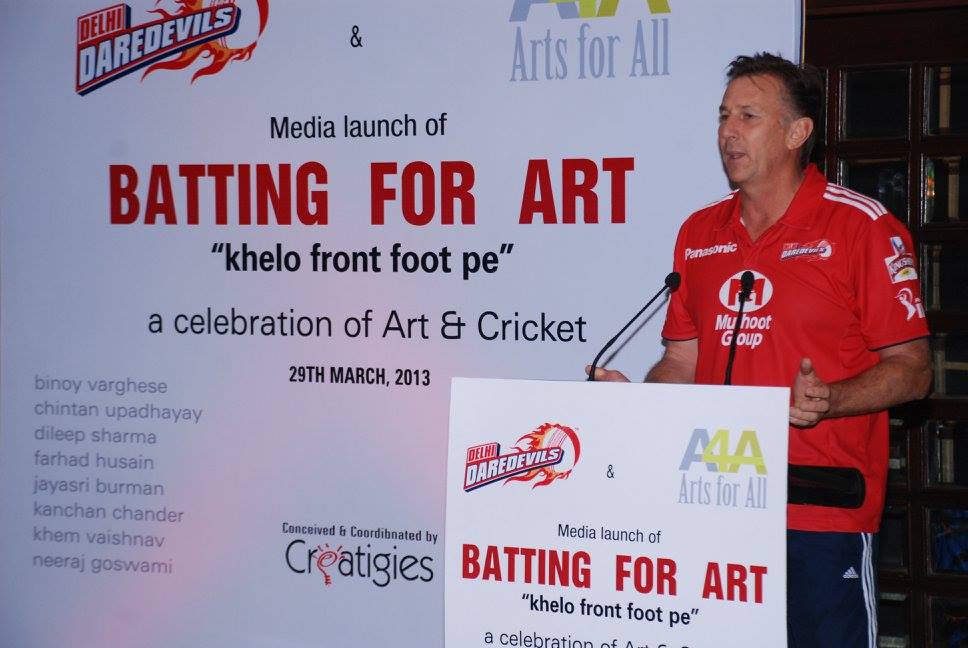 Art4All : Batting for Art:
Creatigies conceptualized Batting For Art, curated by A4A and supported by the Delhi Daredevils, where the specially created collection of 15 larger-than-life-sized cricket bats painted by a wonderful set of artists, reflected the spirit of the game, the passion of the Delhi Daredevils, and the inspiration it creates for millions around the globe. The confluence of cricket and art allowed each artist to use his or her own unique style to depict their ideas and concepts, and the collection was created in a record time of just 4 weeks. Painted by each of the invited artists in his/her distinct oeuvre and style, the collection is a confluence of creativity and cricket. The fifteen artists in 'Batting for Art' come from around the country and work within different sensibilities, and have specially created for this project. The Delhi Daredevils stand for positive attitude and zest for life and its energetic logo represents its pursuit of excellence. The characteristics of this people's team are cheerfulness, enthusiasm, diligence, determination, friendly and passionate. The artists reflect these characteristics with the play of paint, texture and colour.
Participating Artists: Binoy Varghese, Chintan Upadhayay, Dileep Sharma, Farhad Husain, Jayasri Burman, Kanchan Chander, Khem Vaishnav, Neeraj Goswami, Paresh Maity, Sanjay Bhattacharya, Satish Gupta, Seema Kohli, Sidharth, Thota Vaikuntam & Yusuf Arakkal.