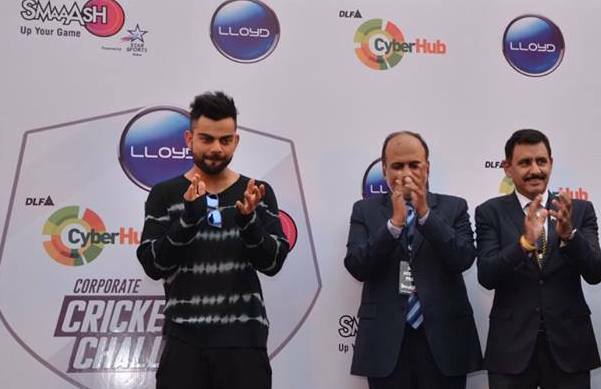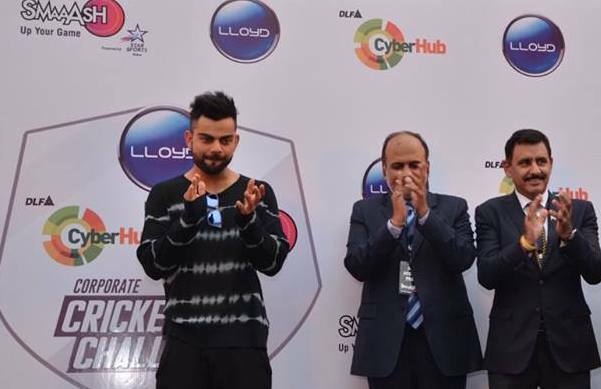 Lloyd presents the Smaaash Corporate Cricket Challenge, 2015. Lloyd came on board as the Presenting Sponsor of the SMAAASH Corporate Cricket Challenge, a Corporate Cricket League that was played on the SMAAASH CRICKET platform across October – November, 2015.
It is a first of its kind 360° cricket simulator where you can face the bowling of International Cricket legends. Unlike a run-of-the-mill bowling machine, Smaaash Cricket allows you to experience the real thing! The precise technology not only matches the bowling action of cricketing greats but is also replicates all their deliveries. The spectators cheering, live commentary, high frame-per-second video cameras tracking fielding positions and of course the international players you are facing all combined make for a life like experience. The tournament is all about batting. Both teams bat and the team that scores the maximum runs win.
The event was launched by Virat Kohli amongst much fanfare at SMAAASH, Cyber Hub, Gurgaon and he made another appearance to announce the winner of the Smaaash Corporate Cricket Challenge.
Creatigies was instrumental in forging the partnership which saw a tremendous response with participation from a staggering number of teams across the city.