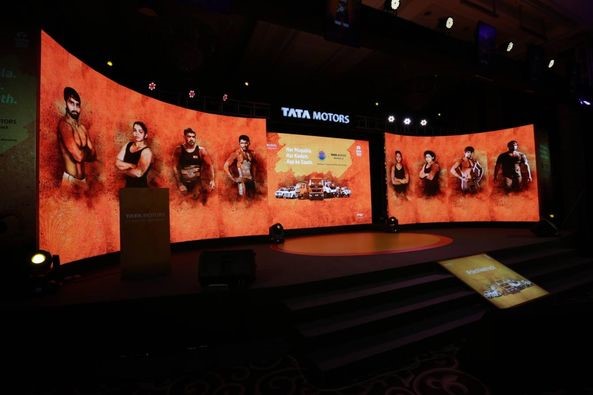 Tata Motors in line with its Group heritage has constantly looked at encouraging sports and promoting sporting talent across India and overseas. Continuing this tradition, the Commercial Vehicles Business Unit (CVBU) of Tata Motors announced an all-encompassing three-year strategic partnership with Wrestling Federation of India (WFI) as 'Principal Sponsor' to encourage and promote the sport of wrestling and leverage the strong connect with the brands of its CV range. Beginning with the 2018 Asian Games in Jakarta, this partnership will continue till 2021 that will include the World Championship and World Cup, 2020 Olympic Games, besides other national and international wrestling events.
Celebrating this initiative, the new official Tata Yodha jersey for the Indian Wrestling Team was unveiled by the stars of Indian wrestling including Olympic Medallists Sushil Kumar, Yogeshwar Dutt, Sakshi Malik along with Geeta Phogat – India's first women wrestler to qualify for Olympic in 2012 and Bajrang Punia, Sandeep Tomar, Pooja Dhanda and Satyawart Kadian in the presence of senior management from Tata Motors CVBU and official of WFI.
Creatigies will be managing the Tata Motors – WFI partnership over the next three years which includes opportunities for Tata Motors to identify and leverage this exiting partnership. Creatigies also hosted the Tata Motors and WFI partnership dinner in Mumbai on 31st July, 18 a day prior to the official announcement where the Tata Motors family met with the Wrestlers from the WFI.